Name - Reference:
Snack Center 4 Vending Machine Services in Miami and Ft. Lauderdale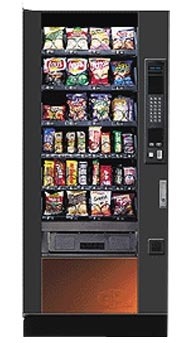 PosiVendTM guaranteed delivery system standard.
Dependable dual spiral ensures product delivery.
Flexible shelf height accommodates larger items, wider variety.
Stylish design complements any location.
Free-vend, cash, credit or debit card capable.
Continuous Price Rolls permit quick changes of product pricing.
Tray Harness provides a positive engagement for each tray.
High strength composite trays tilt down 45 for easy loading.
Trays easily adjust up or down in 1" increments to accommodate different size items.
Five selection Gum & Mint module is door mounted for easy loading.
Removable upper and lower panels allow for moving through narrow doorways.
Can simultaneously handle dollar bill validator, coin mechanism and debit card reader.
Candy and snack items can vend off the same adjustable tray.
CAPACITIES

Standard

Candy: 276 items
Snack: 150 items
Pastry: 40 items
Gum and Mint: 120 items (optional)

SPECIFICATIONS

Height: 72 inches
Depth: 35.38 inches
Width: 32 inches
Weight: 565 lbs.

OPERATION

ELECTRICAL RATING

OPTIONAL FEATURES

Bill Validation: $1, $2, $5, $10, $20 serial or MDB validators (110V, 24V), coupon capable.
Coin Mechanisms: Non-intelligent, MDB or Executive mechs (110V, 24V), 4-tube capable.
Debit Card capability; DEX Interface.
Styles:

New Vision Black
New Vision Platinum

ELECTRONIC FEATURES

Electronic multiple pricing.
Time of Day mode permits up to four fully programmable inhibit, free-vend or discount events in a 24-hour period.
Data collected for unit, dollar and free-vend sales.
Self-diagnostic messages displayed in plain English.